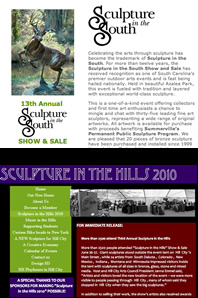 Show Schedule
It will only be a few weeks and we will be enjoying the sun and southern hospitality at Sculpture
in the South, May 14th, 15th in Summerville, SC.
Additionally, we're excited to add a new show for us this year, Sculpture in the Hills, June 25th, 26th in Hill City, SD.
Information for these shows and other upcoming events is available on my online calendar.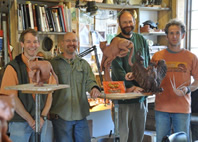 Roger Martin, myself, Paul Rhymer and Gary Staab.

Sculptathon
Our 4th annual Sculptathon was hosted by Gary Staab at his Kearney, MO studio last fall.
As usual, it was a weekend of some serious learning, laughs, smacking each other's work
around (i.e. critiquing), too much good food and great hospitality.
We would like to take this time to thank our unofficial corporate partners for this event:
Reese's cups, Dove Chocolate and Sparky's BBQ of Kearney, MO. It just wouldn't be a
Sculptathon without those essential food groups.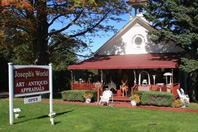 Gallery News
I considered it an honor when veteran art dealer Joseph McGee put out the invitation to have
my work in his Petoskey, MI gallery: Joseph's World - Art & Antiques.
You can view a list and learn more about all of my exhibiting galleries at my website.
I will be scheduling some "meet & greet" days at some of the galleries next year. I will post
the info on my online calendar as I schedule them.