Featured sculpture:
It's a crisp and still autumn morning on a remote Alaskan river. Our raft rounds a bend; I spot a large bull moose….. At least that was our plan for a float trip years ago. For more than eighty miles as we rounded bend after bend we hoped to see a bull, or any moose for that matter. As it turned out, the only way I was going to see my dream moose was to sculpt one.
View all bronze wildlife sculptures by Roger Smith.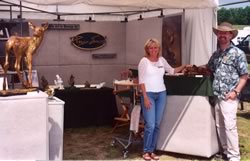 Come out and see us
My wife, Vicki, and I (pictured above) travel the country attending art shows. I thoroughly enjoy meeting people at the shows, and I hope if there's a show in your area, you'll take the time to introduce yourself and and chat about our mutual appreciation of wildlife art.