Featured sculpture:
You may be surprised to know that flying squirrels are quite common in the eastern U.S., but being nocturnal, most people will never see one in the wild. So far I have only seen a couple in the wild and another that got into our basement through a chimney and safely escaped. The name "flying " squirrel is a bit of a misnomer as they don't actually fly but glide from one perch to the next.
View all bronze wildlife sculptures by Roger Smith.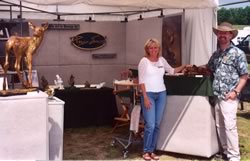 Come out and see us
My wife, Vicki, and I (pictured above) travel the country attending art shows. I thoroughly enjoy meeting people at the shows, and I hope if there's a show in your area, you'll take the time to introduce yourself and and chat about our mutual appreciation of wildlife art.