Featured sculpture:
For this bull elk it's time to rest and brace himself for a long winter. The constant pressure from other bulls wanting to steal his harem has taken its toll. Passing on good genes has its costs. Having not eaten much through the breeding season he's lost crucial fat reserves. From that look you can almost see him thinking – "You really don't want to mess with me right now".
View all bronze wildlife sculptures by Roger Smith.
Announcements
Michigan Art Castings, a fine art bronze foundry collaborating with sculptors nationwide, has just recently opened. Most future orders of my table-top and smaller size sculptures will now be processed by this foundry. I'm confident you'll be very pleased with the attention to detail and craftsmanship associated with every piece.

Come to Dexter, MI on September 21 for the Great Lakes Sporting and Art Show, featuring wildlife art and traditional sporting crafts. Admission and parking are free, and the show runs from 10AM to 5PM.

"Moose" was recently selected for the Society of Animal Artists 53rd Annual Exhibition. With that, my third SAA show selection, I have attained Signature Member status.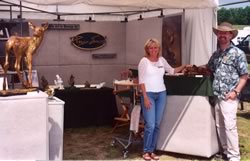 Come out and see us
My wife, Vicki, and I (pictured above) travel the country attending art shows. I thoroughly enjoy meeting people at the shows, and I hope if there's a show in your area, you'll take the time to introduce yourself and and chat about our mutual appreciation of wildlife art.