Featured sculpture:
"Ahh… right there" is an old whitetail buck reaching around with his antler to scratch the spot that itches. The inspiration for this piece came from a photo by Colorado wildlife photographer <a href="http://mauromedia.com">Michael Mauro</a>.
View all bronze wildlife sculptures by Roger Smith.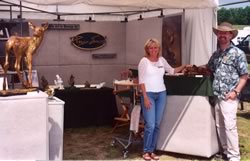 Come out and see us
My wife, Vicki, and I (pictured above) travel the country attending art shows. I thoroughly enjoy meeting people at the shows, and I hope if there's a show in your area, you'll take the time to introduce yourself and and chat about our mutual appreciation of wildlife art.