Featured sculpture:
Only the keenest of eyes will find this in the forest, making this miniature ideal for discreet display.
View all bronze wildlife sculptures by Roger Smith.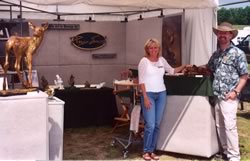 Come out and see us
My wife, Vicki, and I (pictured above) travel the country attending art shows. I thoroughly enjoy meeting people at the shows, and I hope if there's a show in your area, you'll take the time to introduce yourself and and chat about our mutual appreciation of wildlife art.